[UPDATE –08 June 2020]
House of Hohwa #Iprotectuuprotectme campaign. Image: from Facebook-House of Hohwa.
Despite the challenges brought on by COVID-19, local entrepreneurs are proving they are adaptable and are capable of coming up with creative and innovative solutions.
If you were thinking that all business ideas have been done – these South African entrepreneurs prove that original ideas are still abundant – whether it's exploring an untapped market, new business models or finding new ways to exploit what may be a saturated market.
From innovative COVID-19 ideas to solutions for making male circumcisions safer – these are unique ideas that caught our eye.
House of Hohwa
House of Hohwa is a South African based fashion brand founded by Kuda Matiza, a Zimbabwean-born designer. Matiza's brand was inspired by global print trends in the fashion industry, however he wanted to build a brand that was both original and authentic. That's how he got into prints, but more specifically African prints, which transpired in  the brand becoming local and original.
His work process includes identifying trends, which is how he was able to strike gold when the global COVID-19 pandemic hit our shores. He creates face masks in African prints, which can be paired with everyday clothing and accessories. 
Matiza says the initiative began on Instagram as a way to create awareness and educate citizens on how to stay safe during the pandemic. "Being safe doesn't mean you can't be trendy at the same time," he said in an interview with Forbes. The masks retail for R100 on the company's website and are available for delivery.
Rentoza
A group of four South Africans who were convinced that certain household items that are not in use but are currently taking up space should be paying rent. They came up with an idea to make money out of these items without selling them. Their solution: Rentoza, an online rental company that allows you to rent appliances, baby equipment and electronics. 
According to a company press release, in the midst the Covid-19 pandemic, renting offers potential revenue opportunities for businesses that have closed temporarily or might still need to. One of the ways that these business owners can make their existing business assets like laptops, smartphones and appliances work for them is through renting these out. These items could be utilised by other businesses that are able to adopt remote working models to keep their companies afloat.
Bottles
Bottles app co-founders, Vincent Viviers and Enrico Ferigolli.
Bottles is a South African alcohol delivery service app that was founded by Enrico Ferigolli and Vincent Viviers. In an  interview with SME South Africa the founders explain how what started off as solely an alcohol delivery app, in the face of adversity and Covid-19, has now expanded its horizons to grocery deliveries. 
When President Cyril Ramaphosa announced the national lockdown and that the sale of alcohol would be prohibited, Bottles founders moved swiftly by partnering with Pick n Pay (an essential services provider) to offer same-day groceries delivery. The same day delivery services have already expanded to more than 70 stores in Johannesburg, Pretoria, Cape Town and Durban. Read more
Walk Fresh
Lethabo Mokoena is owner of the shoe cleaning business, Walk Fresh. (Image supplied)
Lethabo Mokoena started his business in February 2015 in Daveyton because he wanted to tackle unemployment in his community.
In its early days they cleaned 120 sneakers a month. "We now clean that number in a week. Right now, we are averaging between 500 and 550 pairs a month. I currently have seven young people employed full-time," he told SME South Africa.
In the wake of Covid-19 Walk Fresh has a new venture, Look Fresh. Look Fresh is a laundry and dry cleaning service that offers pick up and delivery services. Walk Fresh SA has several drop off points – where footwear of clients can be collected to be cleaned – this includes Braamfontein, Auckland Park, Randburg, Boksburg, Edenvale, Midrand, and Diepsloot.  Read more
MomSays
Shaney Vijendranath, founder and CEO of data analytics platform, MomSays.
Shaney Vijendranath is a well-known, award-winning blogger of the blog You, Baby and I, which she launched in 2014 as a way to connect with mothers with similar experiences.
Through her blog she has collaborated with some of the biggest global brands such as Mattel, Disney, LG, Volvo, Samsung and Unilever. You, Baby and I was named Africa's most influential parenting blog in 2016 and won the Best Parenting Blog in South Africa the following year.
Vijendranath launched her data analytics platform, MomSays, a tech startup in May 2019 after seeing "a real need for a supportive and authentic platform that can help moms cut through the clutter and easily find the right products for them and their children." Read more   
Isivuno Container Business – Beyond the container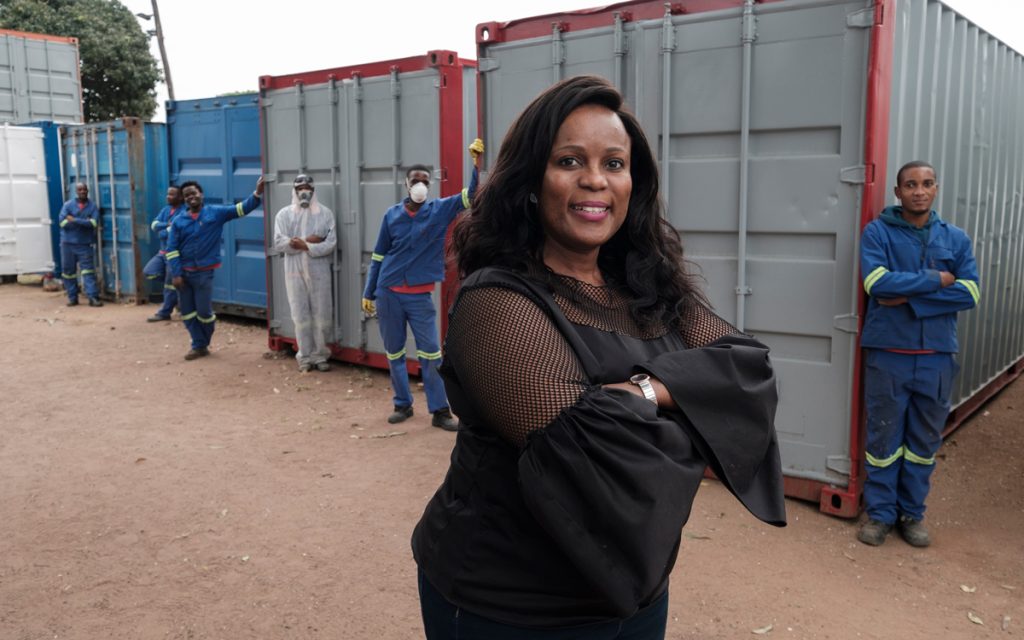 Beverly Gumbi is the founder of Isivuno Container Business. In 2005 Gumbi took the plunge and resigned from her job and left for a trip to China, where she investigated what the Chinese people were doing with shipping containers. She came back full of inspiration and ideas for the new container conversion company she wanted to start. Isivuno Containers was born in the same year.
The company supplies customised containers to a wide variety of clients, with conversion options including offices, kitchens, spaza shops, hair salons, ablution facilities, childcare facilities, gym in a box, and more. "What makes Isivuno different is that we deliver a completely finished product. When you move into your container, all the installations have been done. There are shelves, water, electricity – you can literally just move in and start using it," says Gumbi.
Today Isivuno Containers is a well-established company with 30 staff members, and the only container conversion company in South Africa that is owned by an African female.
AirAdvance – Tapping into new markets
AirAdvance is a fintech startup, it provides those offering private accommodation through Airbnb easy access to affordable finance. It uses a confirmed Airbnb booking as collateral for a cash advance.
Its founder, Jozette Chetwynd-Palmer, explains how AirAdvance works. "Hosts simply link their Airbnb properties by making AirAdvance a co-host and they are then offered an advance value based on their future bookings. Once terms and conditions are signed, hosts can expect the funds in their accounts within 48 hours. AirAdvance only direct debits hosts for the amount owed after they have been paid by Airbnb. By linking the repayments of the advance to future bookings hosts have peace of mind that they will always have sufficient cash available for repayments.
The People's Fund – Crowdfunding with a difference
The People's Fund is a crowdfunding platform with a difference. The Fund provides a springboard for young and innovative businesses and allows individuals, stokvels and corporates to invest assets into budding black-owned companies.
The same ethos that drives stokvels is what's behind their crowdfunding model, says Luyanda Jafta, founder of Paybook, which alongside Brownsense and The Hookup Dinner, are behind the platform.
"We want to demonstrate that between us we can build the economy we want to see, and we can all directly benefit from it," he says.
The People's Fund uses a royalty-based model which allows business owners to retain equity.
"We get everyday people to buy assets for entrepreneurs. The entrepreneurs then pay the crowd a royalty for each product that gets sold or delivered through the asset.
"They [investors] then earn a return from a growing business which means greater than unit trust or bank returns," Jafta says.
Current and past campaigns include Just Laundry, a next day laundry delivery service; MySurfer, an affordable internet service provider for students and Stimela Brewing Co, a Gauteng-based brewery. Read more
Sxuirrel – Turning storage into profit
Sxuirrel's offering comprises three key space elements: storage space, parking space – and soon to be added eventing space in the form of venues.
The Sxuirrel app enables anyone with extra storage, an unused parking space or an events venue to connect with those who need it. It is a peer-to-peer platform that benefits both the providers and users of the space listed on the app.
Founders, Michael Louis, 21, lead software developer, together with Michael-John Dippenaar, 24, CEO and Henri Bam, 24 COO.
Last year the startup secured seed funding of R2.4 million from a strategic partner investment holding company with interests in the storage, logistics and transport industry, in return for a minority shareholding. Read more
Train with boxing grannies at a gym (Airbnb Experience) – Sharing a uniquely South African experience
Training with boxing grannies is one of the Experiences available to be booked on the platform. Hosted by the A-Team Foundation, this Cape Town-based experience helps promote fitness and bodybuilding in underserved areas. Hosting an experience on Airbnb raises funds to renew training material and pay the fitness trainers.
"You'll meet us for our morning boxing session. These grannies have been training with us for years and will show you the way. We will start with an introduction on our NGO and what we stand for. You will then be paired with a granny who will be your partner for the training." Read more
Dorp (Veldskoen) – Taking on the global stage
DORP's (Digital Online Retail Products) first product, the classic South African Veldskoen leather walking shoe, launched into the UK and Europe market this year.
Long4Life, which has invested in a number of well-known South African brands including Sportsmans Warehouse, Outdoor Warehouse and the Sorbet beauty chain, has a 49% stake in the e-commerce company.
DORP was founded in 2016 by Nick Dreyer and Ross Zondagh and officially launched in the UK and Europe in May this year.
"We're excited to bring our South African brands to a global audience. In the short space of time that Veldskoen has been trading in the UK, it has already seen success, and we're excited to introduce it to the rest of the world," says Dreyer, CEO and co-founder of Dorp.
"Launching a retail brand in the UK and Europe is a challenge, the fashion retail market is already highly competitive, but we believe that the quality of our products and our ability to tell our brands' stories will make us competitive," he adds.
Next for the brand is the US and Australia markets – as well as Africa. Read more
Circumfort – Local innovation at its best
The desperate need to find something to relieve pain after his circumcision led to Musa Morgan inventing a medical device that now helps other initiates all over South Africa.
Morgan's device, called Circumfort, is now being distributed at health centres and hospitals in Johannesburg and Pretoria, and even at several NGOs spread around the country.
Circumfort is manufactured in Orlando West in Soweto. It is specifically designed to reduce the pain that is experienced during the post operational wound treatment of recovery.
In August this year, the Stoelbag Foundation which was co-founded by Morgan, Lwazi Ntshangase and Nokubonga Dlamini, was awarded the Manufacturing Award and the Overall Township Entrepreneur of the Year Award by the Gauteng Provincial Government. Read more