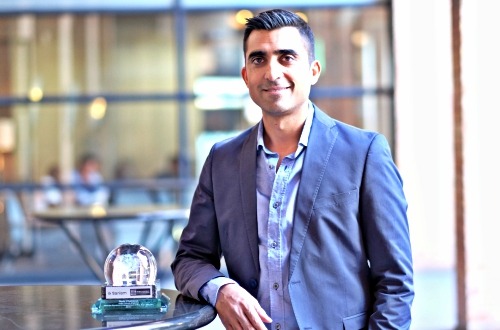 Strong leadership has always been at the centre of Nadir Khamissa's success.
The co-founder and CEO of the Hello Group, an integrated consumer and business services business for migrant and marginalised communities, says leadership was one of the ingredients that helped him survive a near crippling blow when his first attempt at building a product to serve the migrant worker market tanked.
In a previous interview with SME South Africa, Khamissa, shared how they have had to claw their way from the bottom, taking on the giants in the industry, to make it.
"One of these attacks almost shut us down – we lost 90% of our startup capital overnight (my entire life savings). That was probably the most significant inflection point in my business career. We had to dig deep and think hard. The game was not fair and we were losing badly – we needed to either quit or change the game."
And that's what they did.
Together with his brother, Shaazim Khamissa, they have today built a company that has more than 1,5 million customers, employs nearly 700 people on a full-time basis and supporting thousands more on an informal basis, and a brand that is fast becoming a global player in telephony offering cheap international calls to migrant communities and, more recently, international money transfer services for the mass market.
Nadir Khamissa, who is a qualified actuary and former MD of global equity derivatives trading at Deutsche Bank, now spends much of his time between their Centurion-based headquarters and new offices in London.
The brothers were also winners of the 2015 Ernst &Young, World Entrepreneur Award, as well as the Entrepreneur of the Year, and Innovator of the Year awards at last year's Sanlam/Business Partners EOY.
From the early days heading a startup in a difficult industry to now leading a large corporate, Khamissa has learnt a lot about leadership and what it takes to captain a small startup as well as an established business that is playing in the global landscape.
Khamissa shares with SME South Africa some of the important differences and lessons he has learnt from running a startup versus a corporation and why, whether big or small, the best innovations always come from engaging with the customers.
From survival mode to taking on the globe
Khamissa says, running a startup versus running a more established business are two completely different jobs.
"Back in the days when we were starting out, it was all about defining our product, finding out how we create value for customers and really, we were in survival mode back then. Whereas now, we have a portfolio of businesses and we have to wear multiple hats now. We have some mature products that need to be run efficiently, then on the flip side we have extreme startups within the group. Some of them are very radical from either a technology perspective, a client perspective or from a business model perspective."
This has shifted his leadership role to being more about making sure they are allocating capital and resources properly, motivating and managing the teams that are running each business and make sure that they can effectively get into the correct mind frame for each business without ignoring one or focusing too much on anther one, he says.
Nadir

Khamissa

 reveals his one unexpected challenge in leading a large company
Patience and learning to let his team work through the challenges they face, Khamissa says, has been one of his biggest lessons as a leader.
"I've lived through many failures in businesses and I've seen how being relentless and keeping your eye on the ball and working through the hard times, often results in massive wins,"
Hello Group co-founder, Nadir

Khamissa

 on why focusing on simplicity is key for scoring the big wins
"We are innovators at heart. It's all about innovation, changing the game and creating value for customers," says Khamissa, however, the biggest challenge when it comes to innovation, for him, is complexity.
"People try to complicate things and as the organisation broadens and deepens we try to push decision-making to the lower levels of the organisation", so helping his team at every level, focus on simple innovation has been one of his biggest challenges as a leader, he says.
"If you can invest in something new, simplify it to a point where people naturally gravitate towards it, that's where the big wins come."
Find out why

Khamissa

 says the best innovations come from the front lines
"​A lot of what we do, by definition, has to be on the cutting edge of innovation. What this means is that we're trying to bring people into a new way of doing things and a new way of transacting, a new way of doing business or a new way of consuming a product. It's naturally difficult to do that and our job is to eliminate all of the friction so people gravitate towards it," Khamissa says.
Although this is a very big challenge for the business, as it is for any business that grows, he says, their answer is to make innovation part of their culture.
"We ensure that we embrace innovation at ever level of the organisation. We try to encourage people across the board to have a voice. It's not just management and it's not just product people who should be making decisions or recommendations on the product. We want ideas from the field, we want ideas from our sales guys, we want ideas from the contact centre. So a big part of that is our culture of openness, innovation and fun and meritocracy."
Nadir

Khamissa

 talks about his new passion and his favourite 'new toys'
"Is see myself in a more of an investor, venture capitalist, mentor type of role," says Khamissa, and adds that what he hopes to achieve with each investment is to create value that is more than just capital.
"It is ultimately about creating value. Where we do add a lot of value is in helping them believe that the impossible is possible. Dream bigger and put our resources, networks or footprint, and our companies behind them. With some of them we're actually their first customer. We get very involved in RnD. I always like shiny new toys and shiny new businesses are my favourite. I get very involved. I really spend a lot of my time with these new companies because that's what I love."
Why Hello Group CEO, Nadir

Khamissa

 says he would not invest in other startups other than tech
"I genuinely love technology businesses because to my mind they are the future. Technology is changing the world, there is this amazing opportunity to invent new industries, disrupt industries completely. Personally I wouldn't invest in anything else other than a tech company," Khamissa says.
Nadir

Khamissa

 lets us in on who he looks up to for inspiration, now that he is that much closer to the top
Khamissa says as far as he is concerned, South Africa has phenomenal talent and South African entrepreneurs should not believe that the guys living in London or Silicon Valley are smarter than they are.
"They are not. We are just as smart as them. That's the first thing I think is really important that South African entrepreneurs understand. These guys are no smarter than you, whatever they can do, you can do."
Where South Africa is lacking, however, he says, is that the country is quite short on capital and very much short on mentors, whereas in the UK there's an incredible amount of capital flying around with a very well established startup ecosystem of incubators and hubs. He says there's also a tremendous amount of government support for startups.
"What we have in south Africa is we have really really hungry entrepreneurs. And that, in my opinion, gives us the edge."