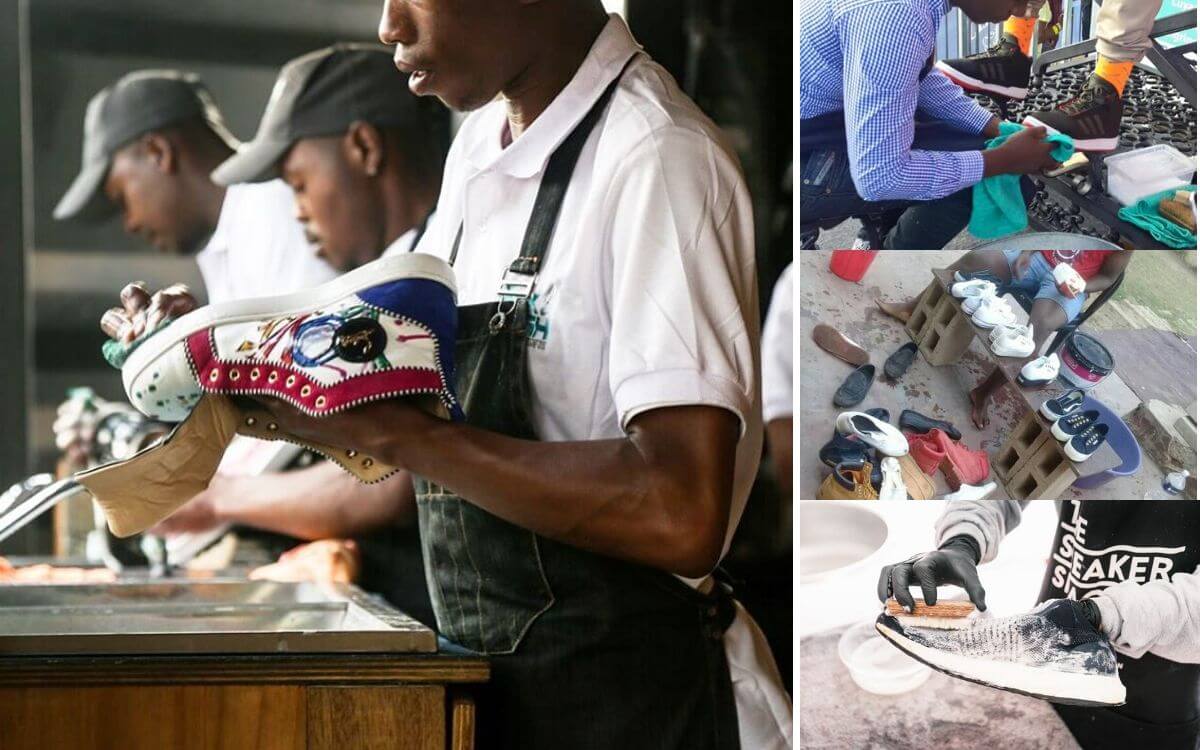 UPDATE: This article was originally published in March 2020, but due to its popularity it's been updated on 11 October 2021.
A sneaker cleaning business is no longer a venture that is limited to the township, in recent years there has been an uptick in sneaker cleaning businesses, with entrepreneurs launching businesses in the suburbs and central business districts (CBDs) of cities.
Trends
The increase in interest in sneaker cleaning businesses is in part thanks to the recent sneaker boom.
Thabiso Hadebe of Black Faff, a local sneaker customisation company, told The Sunday Times, that sneaker culture was evolving which is creating new opportunities in the industry.
"Over the years I've watched them go from being something that only kids and students wear to having billionaires such as Richard Branson wear them to meetings. At the end of the day it's a shoe, it's whatever makes you feel comfortable, because at the end of the day it's who you are."
Other trends within the sneaker cleaning business industry include entrepreneurs expanding their business model by incorporating other income generating activities such as events and brand collaborations.
Lethabo Mokoena, founder of Walk Fresh SA which he first launched in Daveyton, in an interview with SME South Africa said they often host events with a classic township backdrop.  Their business strategy includes giving people of eKasi the space to meetup, collaborate, and buy threads.
Mokoena has collaborated with the brands Nike and Kiwi on separate occasions.
Sabelo Ndlovu, who owns The Sneaker Shack, located in Maboneng Precinct in Johannesburg has collaborated with big brands to expose their business to a wider clientele. Ndlovu of The Sneaker Shack is working with Virgin and has one of his shops located at the Virgin Active health club in Claremont.
[UPDATE]
We have seen some sneaker cleaning businesses come up with innovative solutions in light of the COVID-19 pandemic, including diversifying their revenue streams and making changes to their business models. 
Some examples of this are Walk Fresh SA, which launched a new venture, Look Fresh, laundry and dry-cleaning service that offers pickup and delivery services.
Walk Fresh SA announced they were selling products in bulk to allow anyone within South Africa to launch their own sneaker cleaning business. Included in the sneaker cleaning combo are their sneaker whitener, dark mark remover and unyellowing cream.
The brand now also offers discounts to resellers of shoes and sneakers, including high heels and veldskoene. They can apply for a reseller membership and pay less for cleaning of shoes they plan to sell.
Some sneaker cleaning businesses collaborated with big brands to ensure their growth and survival. The Sneaker Shack was seen collaborating with the coffee brand, Vida e Caffè. As part of their partnership, customers could get a 50% discount on their next sneaker clean from The Sneaker Shack if they visited Vida e Caffè on a particular day. The Sneaker Shack also collaborated with a local fashion designer and artist, Max Sherpard, to host a competition during this campaign to promote the brand. 
Case Studies
Mokoena started his business in February 2015 in Daveyton because he wanted to tackle unemployment in his community.
In its early days the business cleaned 120 sneakers a month. "We now clean that number in a week. Right now, we are averaging between 500 and 550 pairs a month. I currently have seven young people employed full-time," he told SME South Africa.
Walk Fresh SA has several drop off points – where footwear of clients can be collected to be cleaned – this includes Braamfontein, Auckland Park, Randburg, Boksburg, Edenvale, Midrand, and Diepsloot.
Ndlovu opened his pop-up shop in Maboneng Precinct in 2016. His first clients were members of a nearby gym. When Sneaker Shack grew, he opened up a permanent shop at the Hobart Centre in Bryanston.
There are now five branches located in Sandton, Bryanston, Rosebank, Fourways and Claremont. There are plans to open another branch later this year.
Mabuza started his business last year in Matsafeni. He told Mpumalanga News it all began after he had washed and posted four of his tekkies on Facebook.
"People started following me and requesting me to wash their own tekkies… From this business, I am able to pay my electricity bills, buy toiletries and to look after myself, without expecting everything from my mom."
Mabuza says on a busy month, he earns between R1,500 and R2,000 from cleaning his clients' tekkies. They come from different areas in town, including Mataffin, Stonehenge and KaMagugu.
Mehlomakhulu and Mohlala launched a professional cleaning service specifically to clean All Stars, Air Jordans, Superga or Arbiters. The duo promises to bring the "spa" treatment for your footwear.
The startup has now expanded its market from Soweto, Vosloorus, Dawn Park and Edenvale to the Johannesburg's suburb of Bedfordview.
Ready to get down to business? Here is information on the resources, skills and capital you need to launch a sneaker cleaning business:
Costs
Ndlovu of The Sneaker Shack says he started out with the following: soap, cleaning solution, over-the-counter brushes, bags for the sneakers, a POS system, costs for water and electricity and rent (if applicable).
Other tools and products needed are: 
Odour protectors
Brush protector sprays
Leather wipes and protectors
'Microfiber towels
According to Business Alligators, essential equipment and supplies needed for a sneaker cleaning business (depending on how big the business is) are:
– Washing machine
– Drying machine
– Professional shoe rest
– Polishes
– Shoeshine kits including curve needle-outsole stitcher, heel popper, finisher and heat lamp
– Brushes and daubers
– Wax
– Buffers
– Comfortable and good quality shoe shine chair
– Leather protector
– Shining cloths
– Applicator brushes
– Shoehorn
Location
Your location can determine your access to resources, a customer base, and also your proximity to markets and suppliers. The National Small Business Chamber urges that entrepreneurs must do their research on locations before setting up shop. Things you need to take into consideration include:
– Is the location in proximity of your customers?
– Is the area safe and secure?
– Does the location match your brand?
– What would be the costs of running your business in this location?
Research by World Wide Worx indicates that location is one of the factors which can determine the success of SMEs. Their SME Survey 2014 revealed that businesses in urban areas or headquartered in cities are more likely to be profitable than those located in smaller towns or rural areas.
Sales and marketing
– Branding
According to According to Retail Capital SME Toolkit E-book, there are retail factors that are under your control and those beyond your control, and to know which of these you can influence through proper strategic planning can help you sell products.
The branding of your store, website and product are within a business owner's control.
To promote the Sneaker Shack, Ndlovu says they painted their branding on walls.
– Referrals
The "know, like, trust and buy" factor is the basis for all marketing, or as Bob Burg, the American motivational speaker, consultant and author, puts it: "All things being equal, people will do business with, and refer business to, those people they know, like, and trust."
On how brands they went on to collaborate with found out about Walk Fresh SA, Mokoena explains: "Nike got referred to us by one of our clients. Kiwi saw our work on social media and decided to contact us."
– Social media
Social media can influence buying decisions, it gives the potential customer an opportunity to engage with your brand directly online. "Social media allows you to brand yourself, your business and what you have to offer in a way that's more experiential and goes beyond just a buy-sell relationship," says Gilbert Kumpukwe, senior campaign manager at Version.Eight Media, a digital advertising- and social media marketing agency in Johannesburg.
Mandrick Mabuza, owner of Quick Quick Sneakers Wash, said that he started his business after he saw interest from people on Facebook.
"People started following me and requesting me to wash their tekkies."
Setting your price
– Identify your target market (and services)
Your clients benefit when you specifically cater to their needs. Researching your target market will help you identify what services to provide and what price range to offer to the market. It will also help when you're marketing to them – your message will be specific to them using their language.
When Clean Grip Shoe Laundry was founded its target market was the average township-based middle-class consumer, says Mohlala. The reason for this was because they spend quite a bit on footwear and expensive footwear. Mohlala settled on the price of R150 for a basic wash and R220 deep-cleanse wash,
The business' services also include washing, refurbishing, colour touch-up, stain removing, waterproofing, disinfecting and deodorising as well as customising shoes.
– Consider the value you will create
According to Retail Capital SME Toolkit E-book, the pricing of your product is a core capability of any SME owner in the retail space. "Start by establishing key value categories (KVCs) and key value items (KVIs). As explained in Price Intelligently, pricing is the exchange rate you put on everything in your business, and everything else works to justify the rate."
Some of the factors to consider is fuel or transport fee in case you need to drop off the customer's shoes. Mabuza of Quick Quick Sneakers Wash says he charges an extra fee if he has to collect in an area five kilometres outside of Mataffin. "Most of my clients understand that. Some even pay me extra without me asking to do so."
– Diversify your income (if you are able to)
Having more than one source of revenue as a business can help improve cash flow.
According to Mokoena, he has shelf and rail space in his shop which he offers to young township-based clothing brands to sell their products. He also hosts collaborative events with fellow entrepreneurs.
ALSO READ: The Ultimate Pricing Guide for Small Businesses
Training and support
– Do you research
The Retail Capital SME Toolkit E-book suggests that business owners evaluate what's happening in the market around them and see if they can learn anything from their competitors – be it adjusting your pricing models or the look and feel of your store – this includes the online space.
Ndlovu of The Sneaker Shack says it's important to keep your pulse on the (retail) industry. He also advises reading. "Read up on the SME space. Stay informed, educate yourself."
– Find a business network
There is no specific training for business owners of sneaker cleaning services, however there is support available for township-based entrepreneurs or owners of small business enterprises.
You can apply to join an incubation hub that offers support programmes, for example hubs like the Branson Centre of Entrepreneurship and 22 on Sloane.
Join networks like the Township Entrepreneurship Alliance (TEA), which regularly hosts events in townships all over South Africa. Get a list of networks and support services for township entrepreneurs, here.
ALSO READ: Where Successful Entrepreneurs Find Powerful Mentors
– Do not wait for funding
All of the entrepreneurs who have spoken to SME South Africa, have bootstrapped their businesses. Alternatively, you can make use of Finfind, an online platform that helps business owners apply and gain access to business finance, it has a database of more than 530 SMME finance offerings from the public and private sector funders in South Africa. Read more about it here.
ALSO READ: Business Opportunities Monthly – Events, Competitions & Funding
Law and regulations
To register your small business or to keep your business compliant, you need to:
– Choose which type of entity you want to register your company as
– Register your company online on the Companies and Intellectual Property Commission (CIPC) website or the online business registration portal bizportal.gov.za or via a bank, including Nedbank and First National Bank.
– Decide how many Directors do you want to allow in your company.
– Register your business for at your local SARS office for tax. Depending on other factors such as turnover, payroll amounts, whether you are involved in imports and exports etc. you could also be liable to register for other taxes, duties, levies and contributions such as VAT, PAYE (Pay-as-you-earn) UIF contributions (unemployment insurance contributions).
– Maintain up-to-date records like management accounts, financial statements and tax clearance certificates – these are among the most common documents that you will be required to provide if you want to look for financial assistance or funding.
According to FinFind, an online funding platform, a funder might ask the following supporting documents to confirm that your business meets South African statutory requirements:
ID documents of owners, marriage certificates of owners, company registration documents,
lease or mortgage agreement,
Tax Clearance certificate, existing shareholder agreements, share register, proof of address and any relevant business licences, accreditations or registrations required.
An investor might ask for the following documents:
The SMEs business plan/project plans, income/cash flow projections,
Outstanding debtors, signed customer contracts, the latest annual financial, statements, latest VAT statements, management accounts and latest bank statements.
Lastly, if your business is not in an office park, here's what you should know about running your business in a residential area.